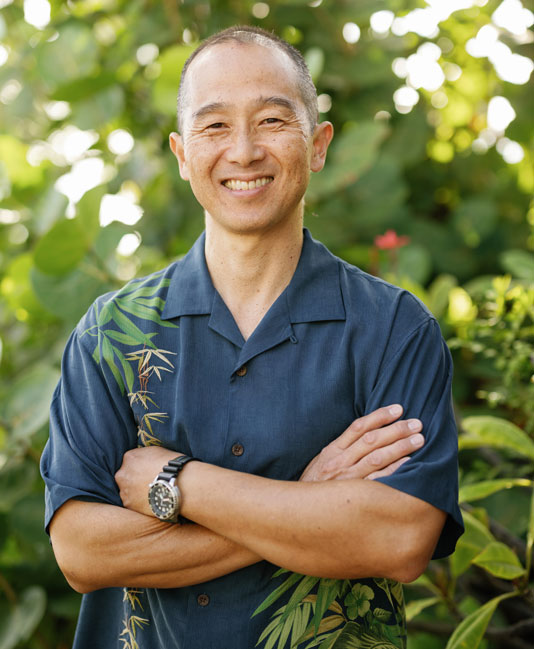 Our business operates on the windward side of Oahu island, the birthplace of Paradise Window Coverings.
Our team is led by Derek, a seasoned veteran with over 20 years of combined window treatment and construction experience. With the support of his wife, Keiko, a registered nurse, this family-owned enterprise prides itself on service excellence and customer satisfaction.
Paradise Window Coverings is your go-to destination for custom window treatments that are as unique as you are.
Our Window Treatments
Are Not Just a Product but a Legacy
Derek's parents founded the largest flooring company in Hawaii. Their support and insight helped establish Paradise Window Coverings and make it a success. The business is infused with the same spirit of dedication, superior quality and reliability that runs in the family.
As the second generation in a family deeply involved in Hawaii's home design industry, Derek and his team are well-versed in delivering the very best products and services. Quality is not just an expectation; it's our inheritance.
Why Choose Paradise?
Why Not?
We believe Paradise is more than a place; it's a feeling. When you choose Paradise Window Coverings, you're not merely buying a product but embracing a promise of lasting satisfaction. After all, why settle for ordinary?
At Paradise Window Coverings, our values guide every project and interaction:
We offer tailored window treatment solutions for your unique needs.
We uphold rigorous quality standards and fix overlooked defects.
Punctual and dependable, we value your time and ours.
Your home is respected; we protect furniture and request permission for photos.
From sourcing to installation, quality is non-negotiable.
We focus on the little things that make a big difference.
Personal touch meets professional standards.
We prioritize quality and service, offering high-end competitively priced products.
We invite you to experience the Paradise Window Coverings difference, where your home is our canvas and your satisfaction, our masterpiece.
Frequently Asked Questions
At Paradise Window Coverings, we offer a wide range of quality window coverings, including blinds, shades and plantation shutters tailored for Hawaii's unique environment.
Feel free to reach out with any more questions you may have. We're here to help you find the perfect window treatment solutions for your home in Hawaii.