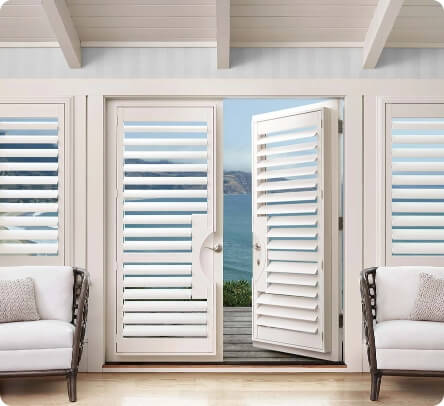 Whether you're looking for the rich warmth of wood or the durable elegance of a composite shutter finish, our shutters for windows are a value-add to any home.
Our composite window shutters are fire- and water-resistant. Due to its sophisticated design, you're protected from mold and fire hazards. Our wood shutters can withstand years of wear and tear. They're also a great option for families with small children or pets because there are no cords to pose a choking hazard.
From traditional wood to high-performance composite shutters, our superior offering might be the best option for your home.
Our wood shutters for windows bring a sense of warmth and traditional elegance to any room. These shutters are crafted from high-quality wood, perfect for those who appreciate the rich, natural look and feel of wooden furnishings.
Composite shutters for windows combine the beauty of wood with the resilience of modern materials. These window shutters are an excellent choice for those who want a wood-like appearance without worrying about the upkeep.
Key Features of
Window Shutters
Durable, Low Maintenance
Both wood and composite window shutters retain their quality for years to come. They're easily maintained installations that hold up well to Hawaii's climate.
Ease of Operation
Our collection of window shutters requires minimal effort to keep in good condition. Maintaining the look and functionality of these installations is as easy as a simple wipe with a damp cloth.
Style and Versatility
Window shutters are incredibly versatile, as they can be used within just about any space. They're an ideal option for specialty shaped windows, such as bay windows, angle tops and arches.
Design Your Perfect Interior
Enhance your living room or lounge areas with a luxurious finish with our window shutters.
Our composite shutters excel in areas of your home with high humidity, such as kitchens and bathrooms.
Ensure your children's bedrooms and playrooms offer privacy with neat, durable window shutters.