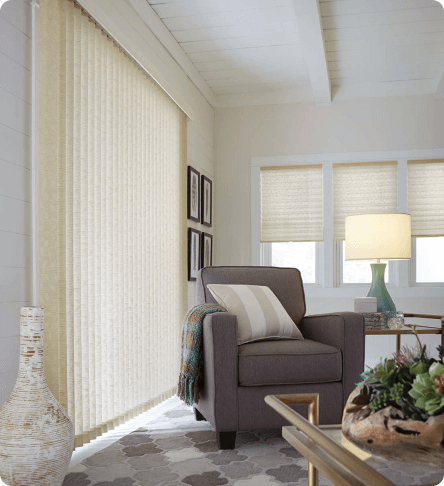 The right window blinds for your home or office can take your space from simple to luxurious. They're an excellent option for any type of room, and they offer a host of benefits, such as:
Privacy from prying eyes
Interior temperature management
Control over the light entering your environment
You can choose from our faux wood blinds, vertical blinds or aluminum blinds for windows. Each installation creates an enhanced interior space, no matter your design style. Our team of experts works to ensure your specific needs and aesthetic requirements are met.
We're thrilled to bring you a versatile range of blinds for windows in Oahu to choose from to create your ideal space.
Vertical blinds for windows are a classic and practical choice. They're suited for larger windows and sliding glass doors. T
These blinds consist of vertical slats that can be tilted, opened and closed with a wand control, offering light control and privacy options.
Manufacturers like Hunter Douglas offer high-quality vertical blinds for windows with various customizations, making them a go-to choice for any setting.
Faux wood blinds are a popular choice for those who want the luxurious look of natural wood without the higher cost or maintenance.
Made from durable materials like PVC or composite material, these blinds mimic the texture and color of natural wood but are resistant to warping, cracking and fading.
This makes them ideal for areas with high humidity or temperature fluctuations, such as bathrooms and kitchens.
Aluminum blinds for windows are a timeless choice that offers functionality and aesthetic versatility.
These blinds are made from durable aluminum slats, resulting in a lightweight and resilient window treatment.
Hunter Douglas, a leading manufacturer, offers quality aluminum blinds for windows that meet various preferences. They provide customization options, including cordless and motorized controls, making them a versatile solution.
Key Features of
Window Blinds
Low Maintenance
Cleaning is a breeze with our blinds. Most stains and dirt can easily be wiped away with a damp cloth.
Ease of Operation
No complications with our blinds. They're easily opened, closed and stacked using a wand or cordless operation. Some models offer motorized options.
Material Options
Our modern blinds for windows are available in various materials, including fabric, PVC and composite material.
Design Your Perfect Interior
Our blinds for windows offer a professional touch while allowing you to adjust the light.
Enjoy privacy and light control for a restful sleep environment with our superior blind installations.
Window blinds are a perfect choice to cover sliding glass doors that lead to patios or balconies.