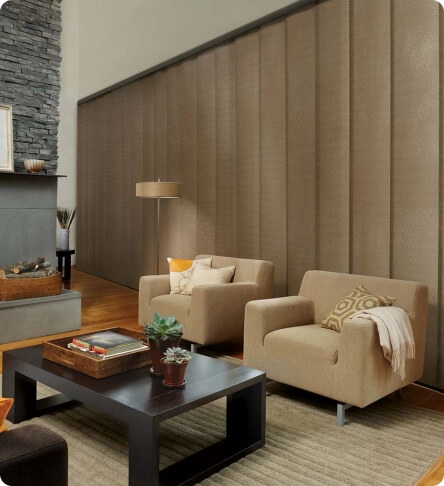 Paradise Window Coverings, brings you a collection of window shades designed to enhance any interior through functionality and aesthetics.
Oahu properties are built to embrace the lush natural environment in its surroundings. Whether you want to enjoy your breathtaking view, shade your home from glare or completely blur the lines between your interior and the outdoors, Paradise Window Coverings' shades range has something to suit every lifestyle. Our collection includes solar shades, motorized shades, honeycomb shades and sheer shades, to name a few.
We work with industry-heavyweight Hunter Douglas to create window shades that are equally as beautiful as they are durable and practical. Whether you need an installation to frame a beautiful view or you're looking for sliding door shades, the Paradise team and Hunter Douglas collaborate to meet your needs.
Our motorized shades offer convenience at the touch of a button or via voice command. These shades are perfect for hard-to-reach windows or adding a modern touch to your home automation system.
Honeycomb or cellular shades are an innovative window treatment option that blends aesthetics and functionality. They're called 'honeycombs' because of the hexagonal-shaped cells that make up the fabric.
Roller shades are a classic window treatment option that offers a clean, sleek appearance at the window. Perfect for rooms where you need excellent sun protection and want a modern look.
Natural woven shades from Hartmann and Forbes are a unique, eco-friendly choice for windows that bring organic, textural beauty to your interiors. These shades are handwoven to size with a loom-finished edge, which reduces edge fraying and provides a beautiful edge detail.
Banded shades offer a contemporary design that pairs beautifully with various décor styles. These shades are sometimes called "Zebra Shades" as their alternating bands of sheer and solid fabrics create a zebra-like pattern when overlaid.
For fans of the timeless aesthetic of Roman shades but looking for a modern twist, our modern roman shades are the perfect fit. These shades combine traditional design and modern innovation for an effortlessly chic and functional treatment.
Sheer shades blend traditional blinds and modern shades. Imagine the softness of curtains with the practicality of blinds; that's what sheer shades bring to your home. With fabric vanes floating between two layers of soft, knitted fabric, these shades offer an ethereal design quality.
Solar shades are designed to control sunlight without blocking the outside view. These shades are made from a unique, mesh-like fabric that allows you to see outside while protecting against harmful UV rays, glare and heat. Solar shades are ideal for areas exposed to direct sunlight for extended periods.
Make sure your sliding doors or expansive windows don't hinder your privacy with sliding door shades. Our shades for sliding doors are designed elegantly, offering stacking widths, modern looks and smooth operation.
Key Features of
Window Shades
Energy Efficient
Our shades collection offers a variety of energy-efficient options. Our honeycomb shades have impressive insulating abilities and solar shades are specifically designed to reduce glare and the resulting heat gain.
Privacy at Your Fingertips
Whether you choose natural woven shades, banded shades or sheer shades, your privacy needs are easily met with our collection of window shades. If you require complete privacy from the outside world, our banded shades are certainly worth reviewing.
Style and Versatility
We have window shades to suit style and function. If you're in the market for a hi-tech, polished look, consider motorized shades, or if you'd like to soften your interior with a warm glow supplied by our modern Roman shades, we've got you covered.
Design Your Perfect Interior
Our window shades are excellent for appreciating your view or surrounding landscape while indoors.
Create an ambiance for productivity by controlling the natural light and reducing electricity consumption.
Perfectly integrate your motorized shades into a home automation system for a fully connected lifestyle.